Akashic Records
Advanced Practitioner Certification
Using the Pathway Prayer Process©
to Access the Heart of the Akashic Records
What are the Akashic Records?
The word "Akasha" is a Sanskrit word that means "primary substance," one of the five elements from which Universe is composed. The Akashic Records is an energetic library that holds information pertaining to each Soul's journey throughout time. There are references made to the Akashic Records in many of the major spiritual/religious traditions on this planet.
Accessing the Records provides an unlimited loving and compassionate resource for growth, peace and healing.
How are the Records accessed?
Throughout time, there have been various ways to access the Records. Historically, only people who devoted decades of rigorous spiritual training could access the Records. Edgar Cayce was a well-known mystic who accessed the Records while in a trance.
We have now reached a critical point in humanity's development in which the Records are now being made accessible to anyone who is interested in developing a conscious relationship with their Soul.
Using the Pathway Prayer Process©, this class offers additional ways to work in the Akashic Records to heal long-standing and stubborn issues, identify and resolve unwanted ancestral patterns, gain benefits from positive ancestral lineages, and to address past lives that result in current difficulties or challenges.
Prerequisite:
Read the book "How to Read the Akashic Records," by Linda Howe, or listen to the audio version of the same title prior to the first day of class. (Beginning Practitioner certification is recommended, but not required.)
Topics covered in this class:
– Energy Healing (3 hours)
– Ancestral Healing (3 hours)
– Past Lives (3 hours)
---
Full participation and attendance for all class sessions will result in Advanced Practitioner certification in the Pathway Prayer Process©, recognized by the Linda Howe Center for Akashic Studies for advanced/future studies and certifications.
Appropriate for adults 18 years and older.
Please, no alcohol or recreational substances 24 hours leading up to, and during class. Prescribed medication is fine.
Organize a Private Class
Organize and schedule a private class for you and your friends! Minimum of 4 students required, maximum 8 students. Learn more here.
Get notified when new Akashic Records classes are listed
Receive invitations to Akashic Records Practice Groups (for students who have completed the Beginning or Advanced Practitioner Certification courses)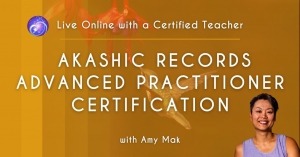 https://www.soulworkings.com/wp-content/uploads/2021/03/02-Advanced-Practitioner-Certification-Amy-Mak-FB.jpeg
670
1280
Amy
https://www.soulworkings.com/wp-content/uploads/2020/10/SW-LOGO-32-495x400.png
Amy
2021-09-06 10:38:00
2021-09-05 10:38:36
Akashic Records Advanced Practitioner Certification – February 2022
If there are no upcoming classes listed, you can request a class (send a message below). The more people who show interest in a class, the greater the chance that class will be added to the schedule soon.